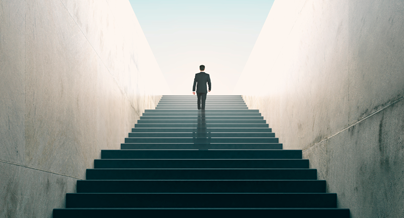 These are undoubtedly UNCERTAIN times, yet our on-going Quarantine Relief Series has both provided direction and relief for J.P.A.R. agents, staff, and business partners as well as our guest audience.
It's so easy to wake up at these times and not know what to do… one thing to do is join us every morning at 8 AM CST!
Stephen Covey said it over and over throughout his career,
"If there's one thing that's certain in business, it's uncertainty."
That quote was accurate then, and it's so real now.
Is it business as usual? No, JP, Geoff, and I call it… "business forward! Be safe, be smart."
Develop an all-new plan? For sure, as your new brand is being developed now.
So, this is what we will address today: "how to grow your business from the inside out." I recently interviewed Coach Tom Ferry for episode #112 of Success Superstars, and he shared five actions inspired agents are executing during this time of uncertainty.
Inspired Action No. 1: Increase your P.E.D.S.
Carl Jung told us all – and our guest speaker on the Q.R.S. session #16 Greg Bowles – reinforced how you feel on the inside is what you radiate to those on the outside! So, it would help if you took care of yourself first. And that means taking your P.E.D.S. daily:
P-rayer – nourishes your soul in beautiful ways. There are 13 powerful ways to pray.
E-xercise –?strengthens your heart, mind, and improves your circulation.
D-iet – eat healthy to stay at the top of your game.
S-leep – keeps us healthy and functioning well. It lets your body repair, restore, and reenergize.
Inspired Agent Action No. 2: Intentional communication
Now is not the time to retreat into a foxhole and go "radio silent." It's time to step up and communicate smartly and consistently. Communicate with clients; prospects; your database; investors and your community at large.
But you must be smart about it. It's not about reaching out like everything is normal and asking if they are considering a move. Instead, consider this:
Consider adding the "investment property of the week." Many investors are in the market and can use your guidance and expertise at this time.
Clients under contract: Tell them, "I'm here for you. I have your back. What would you like to do?" If they want to pause, let them do so. Doing the right thing is always the right thing
All your recent leads: Call, text, or send a personal video to EVERY LEAD! Reach out with care and say, "I was thinking about you. I wanted to reach out and say, Are you OK? I want to let you know I'm here for you."
Database: Then, send a similar message to members of your database. But not a mass email. I want you communicating personally with ten or more people in your database every day.
Inspired Agent Action No. 3: A New "How's the Market?" Dialogue
You hear it regularly, but now people are going to be even more genuinely curious, "How's the market or What's My Home Worth Now?" ?At J.P.A.R., you can increase the number of these conversations by executing our unique B.U.Y.S.I.D.E. home value ad campaign. Here are some dialogues to consider:
"Here are the latest stats from M.L.S. and Altos Research. Not all, yet some of my buyers, sellers, and investors are telling me they want to hold for now, and I'm supporting that decision while I continue to communicate and keep them aware of what's next. And some of my clients need to sell, buy or invest right now, and they're doing that with the protocols for safety and smart marketing, virtual showings, and virtual open houses."
"More importantly, how are you and your family doing? Can I help in any way?"
The best path for the future of your business is bringing humanity to our industry during these trying times.
Inspired Agent Action No. 4: Sharpen Your Axe
Now is the time for you to work "on" your business and your personal skills, consider these actions:
Dig into your CRM – at J.P.A.R., we provide basic kvCore, so you have no excuses.
Practice your presentations – jump on a zoom each day with a fellow agent

At J.P.A.R. we provide the David Knox Library with over 300 role-plays from handling objections to listing presentations that work

Refine your marketing plan with execution dates and expected outcomes

AT JPAR we provide as a standard curriculum the Real Estate Playbook with 2 modules on "Marketing Mastery" and a bonus module on "Lead Generation."

Develop your social media channels… we recently added a YouTube Channel
Master the use of Zoom for listing presentations and buyer or investor consultations
That stack of books you've been meaning to read? What are you waiting for?
Tech skills you've needed to learn? At J.P.A.R., we are offering 100 on-demand courses!
Your income is in direct proportion to the VALUE you bring to the market.
Remember, work expands to the time allocated. Set a deadline and a specific time to address each item in your plan. If your business is being disrupted, make sure you come out of this crisis better prepared to deliver value when things return to normal.
Inspired Agent Action No. 5: Your Next 30-Day Marketing Plan
Marketing in today's environment requires a whole new approach and must include empathy for those you reach. Here are three actions you should be taking now:
Ten handwritten personal notes daily and schedule virtual "pop bys" weekly.
Two or more QUALITY new connections DAILY on LinkedIn, Facebook or Instagram
Email your entire database every single week. Send them current information, coronavirus-related housing statistics from Keeping Current Matters, N.A.R. and T.R. offer content, help, videos, and more.
Mail to your geographic farms twice a month. Take the info K.C.M. is sharing and make it into postcards to educate and inform homeowners about the realities of today's market.
Increase your social media activity! Be the voice of reason. Do video! Do it on Facebook, YouTube, Twitter, Instagram, LinkedIn.
What you do NOW will make or break your brand for 2020 and beyond.
So much has changed, yet so much has stayed the same. Consider these additional fundamentals:
7 Steps To A (Virtual) Appointment Setting Breakthrough
What Does Your System Produce?
The Recipe… The Ingredients For Your Real Estate Practice