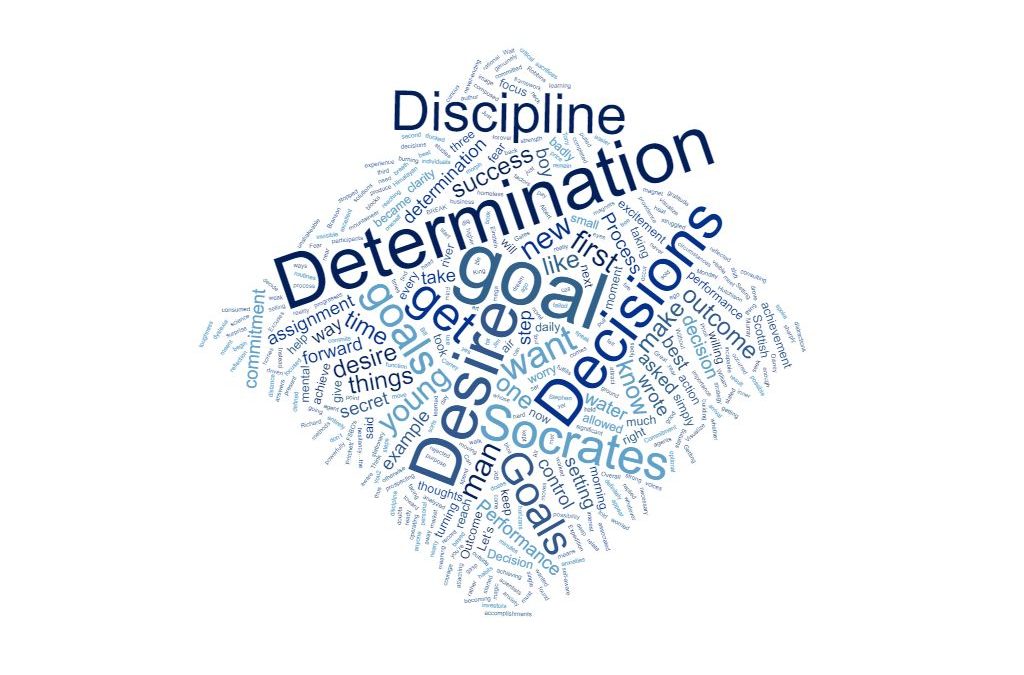 The art and science of goal achievement are driven by your desire, your decisions, your determination, and discipline. Let's dig in.
Tony Robbins said it best:
"Setting goals is the first step in turning the invisible into the visible."
And Price Pritchett, the author of "You2" wrote it best:
"You don't have to know how you're going to get there, but you do need to know where you want to go!"
There is magic in operating with a sharply defined mental image of the outcome you seek.
Visualize your arrival.
When you visualize, it is like a magnet to the ways and means and the methods to get there. The solutions begin to appear, and the answers come to you.
#1 Desire
A young man asked Socrates the secret to success. Socrates told the young man to meet near the river the next morning.
The next morning, they met. Socrates asked the young man to walk with him toward the river. When the water got up to their neck, Socrates took the young man by surprise and ducked him into the water. The boy struggled to get out, yet Socrates was strong and kept him there until the boy started turning blue. Socrates pulled his head out of the water, and the first thing the young man did was to gasp and take a deep breath of air.
Socrates asked, 'What did you want the most when you were there?" The boy replied, "Air." Socrates said, "That is the secret to success. When you want success as badly as you wanted the air, then you will get it." There is no other secret.
Just like a small fire cannot give much heat, a weak desire cannot produce an excellent result. A burning desire is the starting point of all accomplishments.? If you genuinely want to achieve your stated goal, the first step is desire. You must want it badly enough to make an unshakeable commitment and to be willing to make sacrifices.
#2 Decision
I have found from my own experience that I was getting in my way. Can you relate? You know the doubts, anxieties, ego, fear, and those never-ending critical inner voices. The very things that keep us from taking action. And not taking action is a decision in and of itself, yes?
And thus, the second D is Decision. Getting out of my way meant becoming more self-aware of those thoughts that held me back and the courage and mental toughness to step forward.
Some time ago, I was worried about whether or not I should take on a new consulting assignment. By this time, I was learning how I could get out of my way, so I stopped for a moment of reflection and gratitude. That time allowed me to be curious rather than being consumed by fear and worry. I reflected on the meaning I was attaching to things associated with this new assignment. The shift drove my thoughts away from the distractions and simply allowed me to be present and aware. By doing so, I was free to find clarity and to make a more rational decision about this new assignment. Fear and worry became optional for me, and the clarity to make a decision and move forward powerfully became easier.
Are you ready, right now, to decide to do whatever is necessary, to be willing to pay any price, go any distance, to achieve your goal?
#3 Determination
The third D, Determination.
Richard Branson has dyslexia;
Walt Disney spoke with nearly 300 possible investors before anyone took interest;
Bill Gates' whose first business failed;
Albert Einstein did not speak until he was four;
Jim Carrey was homeless, and
Stephen King, the first novel was rejected 30 times.
So, what is more, significant in your life right now. Excuses as to why you are not achieving as much as you want? Or mega doses of determination to get what you want?
I have learned that determination is a function of three factors: a goal, a commitment, and a focus.
Let's BREAK that down:
Goals – Goals are like magnets that attract us to higher ground and new horizons. They give our eyes a focus, our mind an aim, and our strength a purpose. Without their pull, we would remain forever stationary, incapable of moving forward.
A goal is a possibility that fulfills a dream.
You know the importance of setting goals, so why is it so hard to keep and reach them?
We have all felt the excitement that comes with setting a new goal, but then, as time progresses, excitement can morph into anxiety. Is this because we are facing the reality that we are so far from our goal, and we have no framework or strategy of how to get there. Let's start with the three types of goals:
? ? ? ? ? Outcome Goals?An outcome goal is one that is not really under your control. Instead, it is based on outside circumstances. For example, your goal is to the #1 selling agent in your market. Great goal, you just don't have any control over what other agents will do.
? ? ? ? ?Performance Goals?Performance goals are personal achievement goals. They are the building blocks that help you reach your outcome goal. A good performance goal example is to "beat my record of 21 homes sold in a year."
? ? ? ? ?Process Goals?Process goals are entirely under your control and are composed of the things you do daily, like habits and routines. Think of these as the small steps you take to get to your performance and outcome goals every single day. An example of a process goal would be to "spend 90 minutes prospecting daily" or "call 30 FSBO's every Monday."
In over 650 studies completed with over 50,000 participants, scientists analyzed what worked best when goal setting. Overall, individuals who focused on Process Goals had more success in reaching their goals than those who simply set Performance or Outcome Goals.
Commitment – The Scottish mountaineer, William Hutchison Murray, wrote about commitment in his book, "The Scottish Himalayan Expedition." He wrote: "Until one is committed there is hesitancy…the moment one definitely commits oneself, then providence moves in. All sorts of things occur to help one that would never otherwise have occurred."
Finally, Focus – Dr. Allen Zimmerman wrote about focus this way. It is merely another way of saying you have got to keep your eye on the goal.
One of my three boys learned just that. As they were playing in the deep snow, a neighbor asked them if they wanted to race. He said he would give a prize to the winner.
It sounded good to the boys, so they gathered around the man to learn more. He told them the winner would not be the one who ran the fastest but the one who ran the straightest line. He said he would go to the other end of the field, give a signal, and have them race to him.
The boys took off. The first one looked at his feet as he ran to make sure they were pointing straight ahead. The second boy wondered how straight the boys on either side of him were running and tried to line himself up with them. The third boy just kept his eyes fixed on the man at the end of the field. He kept his sights set on the goal. And, of course, he won the race. His line was by far the straightest.
Two of them lost their focus. They got distracted from the goal. They made the two most common mistakes people make when trying to achieve their goals.
The first boy became self-conscious. He spent too much time worrying about the possible mistakes he was making.
The second boy spent too much time wondering how his competitors were doing.
Do not make those mistakes. You will not only lose the race, but you' will also lose your determination for other races in life.
#4 Discipline
The fourth D. You know what you need or desire to do, yet you derail yourself with unaligned behaviors! Can you relate?
Typically, those that succeed in goal achievement follow a pattern.
A pattern of having a compelling reason why they want to accomplish the goal; they develop an unwavering commitment and accountability; that create rewards and penalties; they develop personal standards, and they gamify or create a competitive environment.
Those that succeed in goal achievement know that we are what we repeatedly do. Excellence, then, is not an act but a habit.
In "The Power of Habit," Charles Duhigg said it best. In the book, he delivers a framework for understanding how habits work and a guide to experimenting with how they might change. That framework is:
Triggers: the event that starts the habit
Routines: the behavior you perform (and how you can switch that if it does not serve you)
Rewards: the benefit that is associated with the behavior
Once we understand our triggers, our routines, and our rewards, we can proactively make the change. Switching out poor routines with more empowering routines and thus create disciplined behaviors that are more aligned with the goals.
Primarily, this all comes down to making simple agreements with yourself. Agreements about what you will and will not accept are the cornerstone of discipline. It then requires holding yourself accountable for following through with these agreements.
All of this boils down to regulating and correcting your behavior whenever you get off track.
Excuses are like noses. We have all got one, and they smell.
Are you going to continue to settle for safe or take a different direction?
Some practical steps to consider this week:
What is it you REALLY want?
Why do you want it?
What specifically do you need to do to get it done?
How can I mentally rehearse the actions I will take to make it happen?
Who will help you maintain accountability for the above?
?