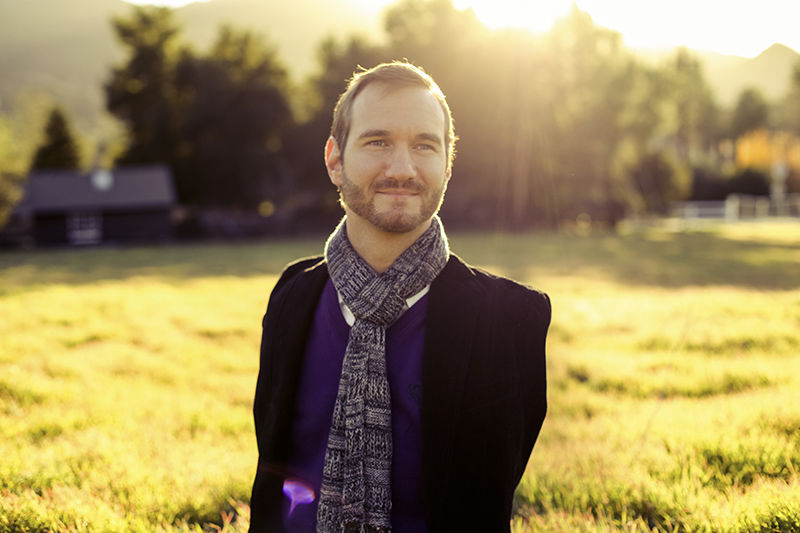 "If you can't get a miracle, become one." ~ Nick?
Imagine getting through your busy day without hands or legs. Picture your life without the ability to walk, care for your basic needs, or even embrace those you love. Meet Nicholas Vujicic.
In 1982 Nick was born without arms and legs and given no medical explanation for his condition. Faced with countless challenges and obstacles, God has given Nick the strength to surmount what others might call impossible.
It was my honor to introduce Nick to our team recently, and here is a snapshot of five of the seven highlights from his message:
Everything starts with an attitude of gratitude?
What was that Abraham Lincoln quote? "Most folks are as happy as they make up their minds to be." So true, today, I am grateful for those of you that share with me how these blogs or video articles made a difference in your business.
Accept ourselves for who we are?
For Nick, the early days were difficult. Throughout his childhood, Nick not only dealt with the typical challenges of school and adolescence, but he also struggled with depression and loneliness. Nick always wondered why he was different than all the other kids. He questioned the purpose of life, or if he even had a purpose.
Accept the reality
Accept others for who they are
Find your purpose
Think like a winner… think big ACT bigger??
Nick's dad used to say: "you weren't given arms and legs, but you were given a brain. Hire employees so that they can be your arms and legs." Despite his disability and being bullied at school, Vujicic threw himself into being an entrepreneur at a young age. His first job, in which he earned A$1 an hour was to vacuum the floor, a skill he managed using his shoulder and chin.
"Don't give up. And know that there is always someone out there who believes in you and who loves you just the way that you are." ~Nick?Vujicic
Motivation is temporary, inspiration and discipline has staying power?
Motivation alone is unreliable. It is momentary, unpredictable, and can depart as quickly as it enters. Think about it:
When you listen to a motivational speech, there is an emotional response that is created by an understanding. However, the emotional response wears off, and we fail to revisit the agreement, which incited the emotional response and all the good things that came with it. Thus, we become "unmotivated" until we are reminded again. Sound familiar?
Do you know how to get out of it? Just do the work. It doesn't matter how you feel at the time; just do it. Don't wait until you feel motivated. You will build momentum, and eventually, you will get inspired. Ignore inspiration — if it's there, great. Use it. If it's not, act anyway.
Don't feel like going to the gym? Just go.
If you have writer's block, then write.
Just don't wait.
Don't wait for the right moment.
Don't depend on luck.
Fear is just a challenge to overcome?
There is healthy fear… don't touch that hot stove! And there is limiting fear… in the case I'm writing about today – limiting fear is just "False?Evidence?Appearing?Real!"
In the type of limiting fear, I'm talking about:
Fear sees only the downside
Fear doesn't let you stop to think it through
Fear tells us to avoid anything new or unknown
Fear constricts rather than expands who we are
Fear obscures your intuition
Fear often keeps us from making any decision at all
I'm so grateful for Nick and his message; I'll leave you with this exercise Nick had our team complete on the spot. Do it now, don't wait!
A quick exercise:
What is your goal? Financially, spiritually, physically, relationally?
Define it specifically. X by Y date by doing these Z daily activities.
– Win the day, win the week, win the month
– Define a plan to overcome your obstacles
– Take action NOW